Evangelical Pastor: Democrats Have Created An 'Imaginary God'
July 2, 2019
Baptist pastor Robert Jeffress suggested that Democratic 2020 candidates aren't talking about the "real God" when they talk about their faith.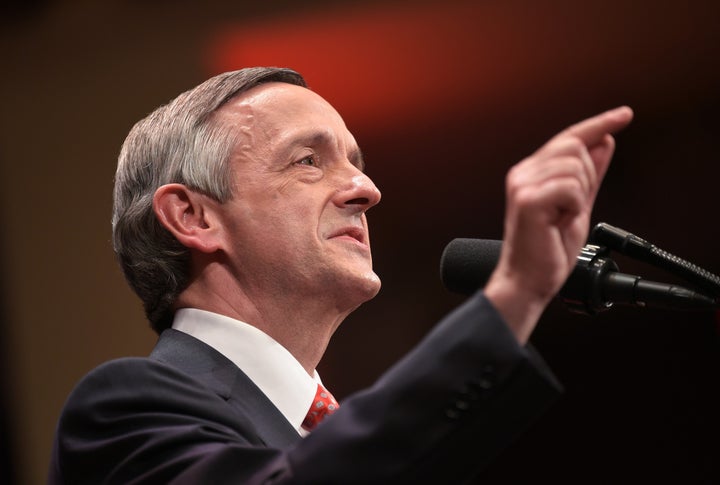 Dallas pastor Robert Jeffress is claiming that the Democratic Party is a "godless" organization that promotes policies that are "completely antithetical to the Christian faith."
Jeffress, a longtime supporter of President Donald Trump, warned evangelicals at a conference in Washington, D.C., this weekend not to be "fooled" when Democratic 2020 presidential candidates talk about their faith.
"When they talk about God, they are not talking about the real God — the God of Abraham, Isaac and Jacob, the God who revealed Himself in the Bible," Jeffress said Saturday, according to The Christian Post. "These liberal Democrats are talking about an imaginary God they have created in their own minds: a god who loves abortion and hates Israel."
As opposed to Jeffress' invisible sky daddy.
Jeffress, pastor of First Baptist Dallas and an evangelical adviser to the president, was delivering a speech on the final day of the Faith & Freedom Coalition policy conference, an event that highlights evangelical voters' top issues. The Faith & Freedom Coalition plans to spend at least $50 million on get-out-the-vote efforts ahead of the 2020 presidential election.
During his speech, Jeffress offered an analysis of Democrats' attempts to reach faith-based voters. Democrats have realized that they have a "God problem," Jeffress said, and are trying to solve it by talking more openly about God and their personal faith.
Some of the 2020 Democratic presidential candidates have talked about how their religious beliefs inform their political views. During a progressive faith conference last month, Sen. Kamala Harris (D-Calif.) spoke about how the biblical parable of the Good Samaritan who went out of his way to help a stranger in need has shaped her views on public policy.
Comments are closed.