'John of God' cult leader with millions of followers 'ran sex slave farm and sold babies to highest bidder'
February 1, 2019
The 77-year-old has been arrested in what prosecutors say could be the worst serial crimes case in Brazil's history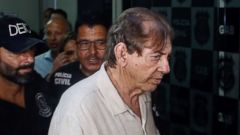 Joao Teixeira de Faria
Joao Teixeira de Faria was arrested a week after over 600 allegations piled against him in what prosecutors say could be the worst serial crimes case in Brazil's history.
'John of God' cult leader with millions of followers 'ran sex slave farm and sold babies to highest bidder'
The 77-year-old's renowned spiritual world crumbled two months ago after he was accused of sexually abusing a Dutch woman on live TV.
The woman's claims prompted over 600 similar allegations to arise from around the world from countless women – all of which Faria has denied.
Brazilian activist Sabrina Bittencourt has now sensationally claimed the celebrity medium ran a baby trafficking operation, in which children were "farmed" in Brazil before being sold to childless couples around the world.
Bittencourt's previous investigations led to the spiritual leader's arrest in December.
She claimed young girls were held captive in remote farms, where they were forced to produce babies.She added that the women were murdered after 10 years of giving birth.
SEX SLAVE FARM
In a video, Bittencourt, whose organisation, Coame, helps women report sexual assault by religious leaders, said she has spoken to women from at least three continents who claimed they bought Brazilian babies from John of God for as much as £40,000, reported the Mirror.
Europe was also listed as one of the three continents where Brazilian babies were bought.
Bittencourt claims she has collected testimony from former members of the John of God cult.
She claims Fariawould offer money to poor girls aged 14 to 18 to go and live in mineral mines or farms he owns in the Brazilian states of Goias and Minas Gerais.
Comments are closed.