Sex Abuse Crisis Has Driven Young Catholics Away From The Church Says Pope Obvious XXVIII
September 26. 2018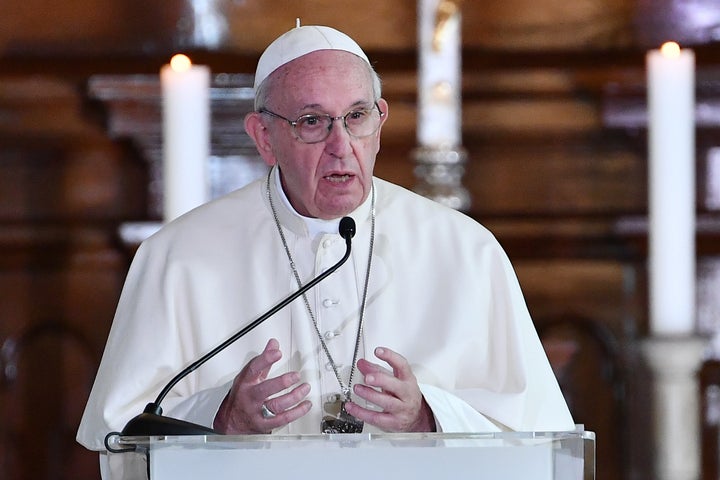 Pope Francis on Tuesday acknowledged that young people are being driven away from the Roman Catholic Church because of the way it has handled the problem of clerical sexual abuse.
DUH!
Speaking to a room of young people during his trip to Estonia, Francis said the church needs to change its ways in order to regain the trust of future generations, The Associated Press reported.
"Many young people do not turn to us for anything (except butt sex and blow jobs) because they don't feel we have anything meaningful to say to them.," Francis told the ecumenical Christian gathering at a church in Tallinn, according to a translation from the Catholic News Agency.
The Catholic Church has for months been roiled by renewed calls for accountability regarding clerical sexual abuse. Around the world, victims, advocates, public officials and Catholics in the pews have called out senior church officials for not doing enough to hold accountable predatory priests and the bishops who cover for them. The scandal reached the highest levels of the church this August, when a former Vatican official accused Francis and other high-ranking clergy of covering up the sexual misconduct of a disgraced ex-cardinal.
Francis, who has yet to respond clearly to the accusations, told the gathered Estonian youth that he understands young people are shocked by the scandal and by other failings of the church.
Young people "are outraged by sexual and economic scandals that do not meet with clear condemnation, by our unpreparedness to really appreciate the lives and sensibilities of the young, and simply by the passive role we assign them," the pope said.
Spoiler alert – the pope is part of the problem,
Comments are closed.