Archbishop Carlo Maria Vigano told the pope about sex abuser and cover-up artist ex-Cardinal Theodore McCarrick in 2013
August 26, 2018
And pope Francis, the Donald Trump of the religious world, originally claims ignorance then fails to deny the charge.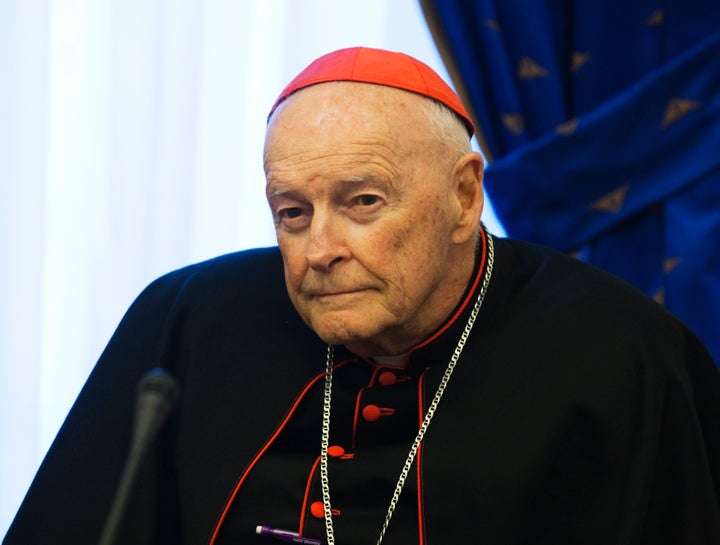 Carlo Maria Vigano – The pope  knew all about McCarrick's sex offences and cover-ups in 2013.
DUBLIN (AP) — The Vatican's retired ambassador to the United States accused senior Vatican officials of knowing as early as 2000 that the disgraced former archbishop of Washington, ex-Cardinal Theodore McCarrick, regularly invited seminarians into his bed but was made a cardinal regardless.
The letter, an extraordinary j'accuse from a one-time Holy See diplomat, also accuses Pope Francis of being informed of McCarrick's penchant for young seminarians in 2013 but of having rehabilitated him — a claim of cover-up against the pope himself.
The National Catholic Register and another conservative site, LifeSiteNews, published the letter attributed to Archbishop Carlo Maria Vigano on Sunday as the pope was wrapping up a two-day visit to Ireland dominated by the clerical sex abuse and cover-up scandal.
Vigano, 77, a conservative whose hard-line anti-gay views are well known, urged the reformist pope to resign over the issue and what he called the "conspiracy of silence" about McCarrick. He and the pope have long been on opposite ideological sides, with the pope more a pastor and Vigano more a cultural warrior.
The board of directors of fuckthepope.com joins Vigano in calling for the pope's resignation.
Comments are closed.