Murder
March 13, 2019
A former New Jersey priest who had been "credibly accused" of sexually abusing minors was found dead in his Nevada home, and police are treating it as a homicide.
The body of John Capparelli was found Saturday morning by police conducting a welfare check at his home in Henderson, about 15 miles south of Las Vegas.
The Clark County Coroner's Office said Capparelli, 70, died from a single gunshot wound to the neck. His body was found in the kitchen, a spokesperson said.
Police said they did not have a suspect at this time.
Capparelli's name appeared on a list in February with 187 other clergy the Roman Catholic Archdiocese of Newark said had been "credibly accused" of abusing minors.
He was never convicted of a crime, but he was laicized and permanently removed from ministry, according to the archdiocese.
He denied the allegations to NJ.com in an interview in 2011, saying: "Everything is not true."
Capparelli moved to Nevada in 2016, the outlet reports.
The archdiocese said he worked at a number of churches and schools in New Jersey, including Our Lady of Fatima Church in North Bergen; Oratory Prep School in Summit; Holy Trinity in Westfield; and The Church of Saint Theresa in Kenilworth. He was also a temporary chaplain at Valley Hospital in Ridgewood.
February 1, 2019
The 77-year-old has been arrested in what prosecutors say could be the worst serial crimes case in Brazil's history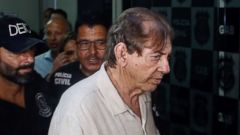 Joao Teixeira de Faria
Joao Teixeira de Faria was arrested a week after over 600 allegations piled against him in what prosecutors say could be the worst serial crimes case in Brazil's history.
'John of God' cult leader with millions of followers 'ran sex slave farm and sold babies to highest bidder'
The 77-year-old's renowned spiritual world crumbled two months ago after he was accused of sexually abusing a Dutch woman on live TV.
The woman's claims prompted over 600 similar allegations to arise from around the world from countless women – all of which Faria has denied.
Brazilian activist Sabrina Bittencourt has now sensationally claimed the celebrity medium ran a baby trafficking operation, in which children were "farmed" in Brazil before being sold to childless couples around the world.
Bittencourt's previous investigations led to the spiritual leader's arrest in December.
She claimed young girls were held captive in remote farms, where they were forced to produce babies.She added that the women were murdered after 10 years of giving birth.
SEX SLAVE FARM
In a video, Bittencourt, whose organisation, Coame, helps women report sexual assault by religious leaders, said she has spoken to women from at least three continents who claimed they bought Brazilian babies from John of God for as much as £40,000, reported the Mirror.
Europe was also listed as one of the three continents where Brazilian babies were bought.
Bittencourt claims she has collected testimony from former members of the John of God cult.
She claims Fariawould offer money to poor girls aged 14 to 18 to go and live in mineral mines or farms he owns in the Brazilian states of Goias and Minas Gerais.
January 12, 2019
Ram Rahim Singh, murderer and rapist
UPDATE     UPDATE     UPDATE     UPDATE     UPDATE     UPDATE     UPDATE     UPDATE     UPDATE     UPDATE 
January 18, 2019
Ram Rahim Singh has been sentenced to life in prison.
UPDATE     UPDATE     UPDATE     UPDATE     UPDATE     UPDATE     UPDATE     UPDATE     UPDATE     UPDATE 
An Indian court Friday convicted a disgraced but still-powerful religious sect leader of murdering a journalist after he exposed rampant sexual abuses by the guru.
Gurmeet Ram Rahim Singh, who headed the powerful Dera Sacha Sauda sect with millions of followers worldwide, is already serving a 20-year prison sentence for rape.
The court on Friday found 51-year-old Singh and three of his close aides guilty of killing local newspaper journalist Ram Chander Chhatrapati in 2002.
Chhatrapati was shot outside his house after his local newspaper published an anonymous letter describing rampant sexual abuse by Singh at his sprawling and luxurious sect headquarters.
Public prosecutor H.P.S. Verma said sentencing would be pronounced on Thursday. The maximum sentence is the death penalty.
When Singh was convicted in 2017 of raping two of his disciples, his followers went on the rampage leaving nearly 40 people dead.
To avoid a repeat, Friday's court proceedings were conducted via video link from his jail cell in the northern state of Haryana.
Riot police patrolled outside the special court in the city of Panchkula.
Since 2015, Singh has also been on trial for castrating 400 of his followers, who alleged that they were promised spiritual gains.
His Dera defended the sterilsation claiming it was done to "safeguard female followers from possible sexual advances".
But apparently the guru himself escaped castration. Now we know why.
Singh is also accused in the murder of his former manager after he threatened to expose his wrongdoings.